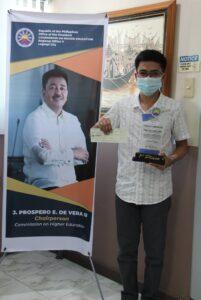 CHED Region V congratulates Mr. Christian I. Lamud of University of Saint Anthony for placing second during the National Level of the selection of the "CHED StuFAPs Scholar Award: My Success Story" Video Contest.
Mr. Lamud placed first during the Regional Level of the competition held last July 29, 2021, at CHED V's Regional Office via Zoom.
CHED StuFAPs Region V is proud to share the winning entry and the remarkable journey of Mr. Lamud with high hopes to inspire and encourage students to dream and achieve their goals in life.
The awarding of the National Level winners will be held on February 10, 2022, during the "Padyak Parangal Para Sa Mga CHED Iskolars" at the CHED Central Office via Zoom.