The Council of Deans for Criminal Justice Education (CODCJE) Region V, Inc. held a hybrid First Quarterly Meeting last January 12, 2022 on the theme: "Resilience Reignited: Innovating Criminal Justice Education for the New Normal"
The main agenda were the presentation of the New Constitution and By-Laws under its new SEC registered name, Council of Deans for Criminal Justice Education (CODCJE) Region V, Inc., formerly Council of Deans for Criminology Education (CODCRIM) Region V, Inc., followed by election of New Board of Trustees/ Officers, President's Report, Presentation of Plan 2022, Treasurer's Report and CHED Updates. The concluding part was the Oath-Taking of the New Set of Officers.
The Council opted to change its name for inclusion of the programs, other than Criminology such as BS Industrial Security Management and BS Forensic Science. The meeting was attended by 34 CJE Deans in the region and the council adviser, Dr. Michael B. Mallari, CHED Education Supervisor II.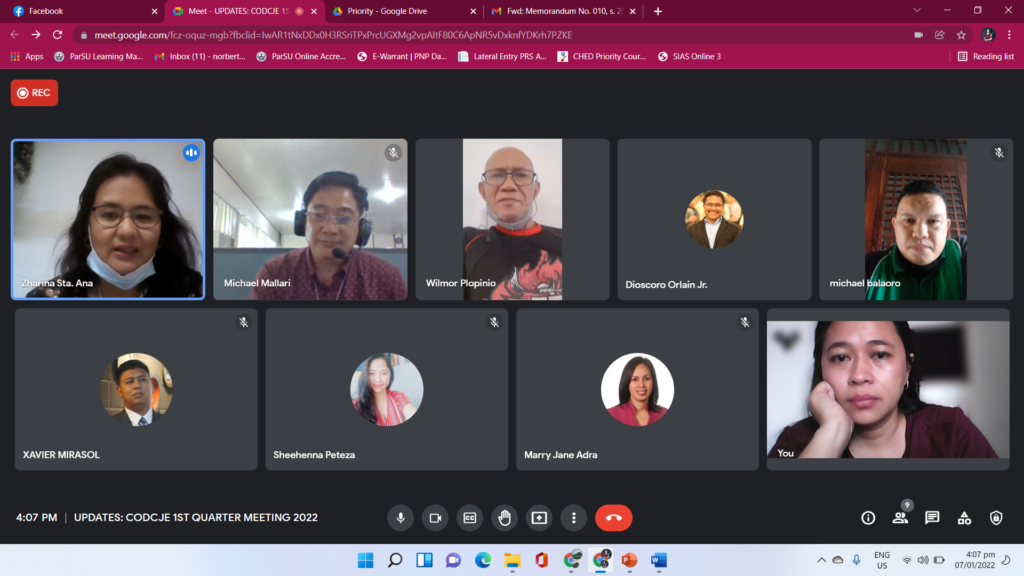 Board Meeting.
On January 31, 2022, the elected Board of Trustees held a meeting at Villa Caceres, Naga City to formally elect a Board of Officers, followed by setting of priorities of the Council such as quarterly activities and the proposal to create a CJE Society as CPD Provider. The council will be under the leadership of its President, Dr. Wilmor T. Plopinio of Pili Capital College; and the Vice President, Dr. Shirlene S. Esplana of Partido State University; with the support of the members of the Board of Trustees, Executive Secretary to the President, Dr. Dioscoro C. Orlain Jr. of Computer Arts and Technological College, Inc.; Secretary, Dr. Marry Jane Q. Adra of Bicol College; Treasurer, Dr. Lorlie B. Tanjay of University of Nueva Caceres; Auditor, Dr. Marilyn F. Balares of Naga College Foundation; P.I. O. Dr. Maria Deona D. Blacer of Sta Elena (Camarines Norte) College, Inc; and Business Managers. Dr. Ariel L. Ayusip of Alfelor Sr. Memorial College, Inc. and Dr. Valiente Tebia of Forbes College.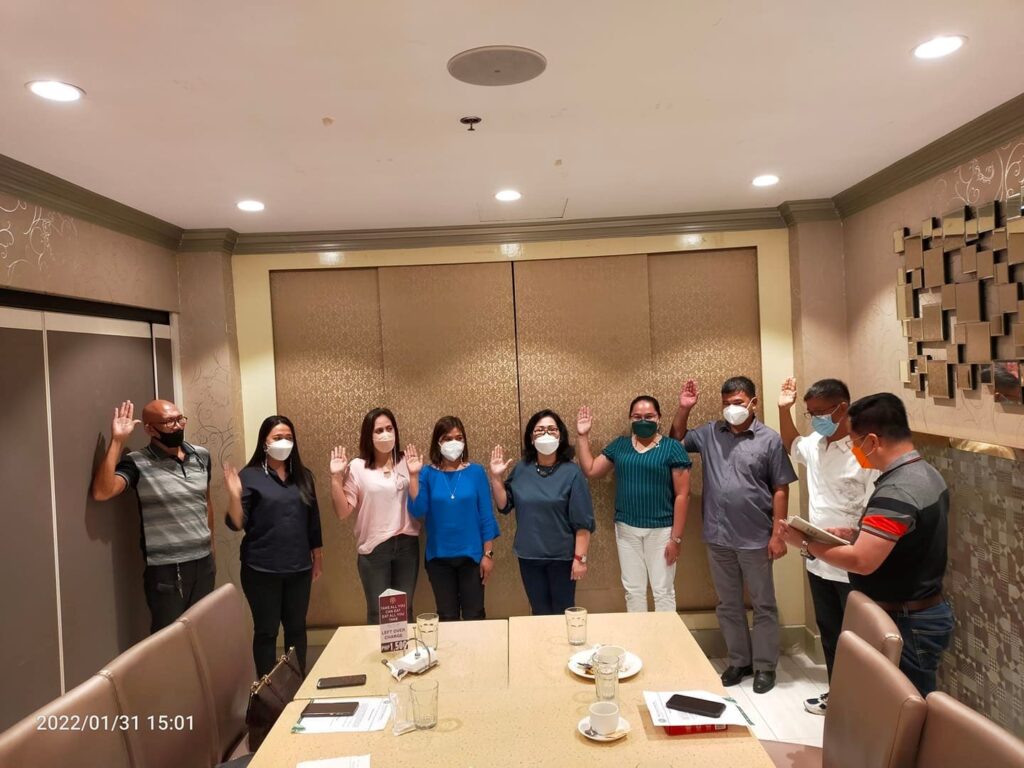 Consultative Meeting with PRC Chairman of the Board of Criminology, Atty. Ramil G. Gabao
CODCJE Board of Trustees kept moving forward towards the realization of the plan of establishing a CJE Society CPD Provider through a Consultative Meeting with the PRC Chairman of the Board of Criminology, Atty. Ramil G. Gabao last February 05, 2022 via Zoom meeting, based on CHED Memo No. 15, s. 2022 last February 4, 2022. The highlights of the said meeting were the application process to become a CPD Provider and the requirements to be submitted to the PRC. Atty. Gabao pledged to support the council with its initiative to help the Criminology professionals by providing quality CPD Training programs in the region.